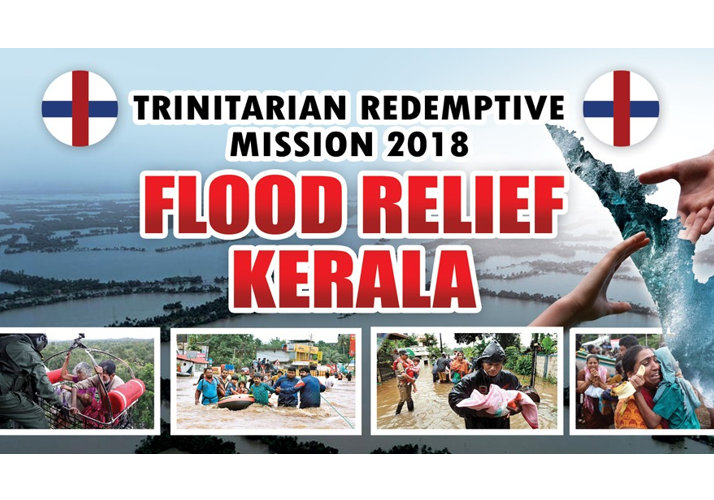 THE TRINITARIAN REDEMPTIVE MISSION: A SOCIAL RESPONSE TO THE FLOOD IN KERALA 2018
Kerala was affected by unusual heavy rain falls and floods from the beginning of July. According to the reports, over 483 people died and a million people were evacuated. All the 14 districts of the state were placed on red alert. The Kerala government has disclosed that one-sixth of the total population of Kerala had been directly affected by the floods and related incidents. The Indian Government had declared it a Level 3 Calamity or "calamity of a severe nature." Heavy rains caused severe landslides in the hilly districts and a lot of damages were done to the road. The flooding has affected hundreds of villages, thousands of homes and roads too.
The Trinitarians rose to the occasion and extended their support to the victims in various ways. The initiates were steered by the Mission Development Office of the St. Michael of the Saints Vice-Province in the USA headed by Rev. Fr. Santhosh Kozippadan, O.SS.T., and our friars in Italy (Frs. Simine, Jolly and Sibi) so also Fr. Janil Chakkiath, O.SS.T., in Cannada. Our communities in India worked together to coordinate the ministries to the victims of flood. Our brothers in Bangalore went from door to door to raise funds to support the victims of flood. The activities are animated by Rev. Fr. Meby Kallungal, O.SS.T. We remember everyone who have been instrumental in carrying out this noble work and remain grateful to our Minister Vice-Provincial Rev. Fr. Joseph Muthuplackal, O.SS.T., who has been of immense support to reach out to these places.
The following are a few activities that have been done to help the victims of flooding: